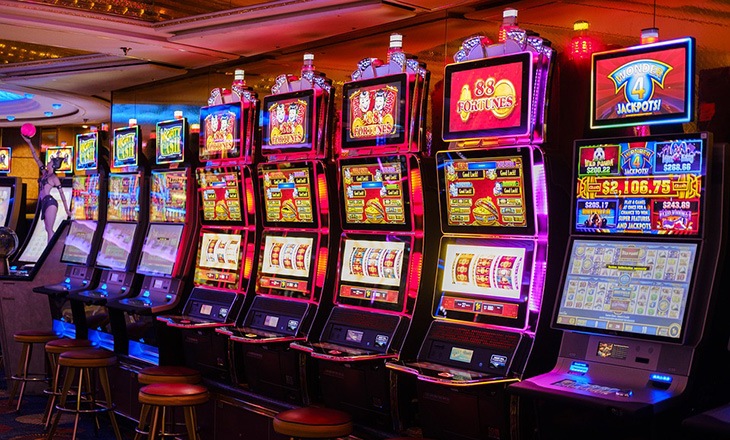 This yearly report of slots machines in 2020 provides an overview to preview the slot games presented at G2E gaming show, Las Vegas. The information describes for slot players, the new slot games, upgrades and internet connection of five innovative slot makers: Aristocrat, Scientific Games, IGT-GTech, Gaming Arts and Konami.
Scientific Games: Slot Machines 2020 Report
We begin with Scientific Games to include Bally and WMS Gaming products. The company is an industry leader that brings exciting new games, revolutionary technology and player-centric solutions to casino floors.
SG new games include:
Willy Wonka: Everlasting Gobstopper
James Bond: DIE ANOTHER DAY
Monopoly Big Wheel Railroads
Monopoly Money Grab
Ultra Hot Mega Link
Dancing Drums
New Drop & Lock Series
Ultimate Cash Spin

SG will launch OpenGaming, its new full-suite of engaging iGaming content and reliable platforms, and features their thrilling new game Mega Drop Quest. The company will also offer an incredible world of play with SG Game Service, which allows players to enjoy proven slots, keno, poker, electronic table games and sports wagering on a single device.
SG Industry-Leading Lottery Solutions: Slot Machines 2020 Report
PlayCentralHD is a high-definition player self-service experience that offers a full portfolio of lottery game entertainment and convenient mobile and payment card options. PlayCentral 54 is the lottery industry's first low-height player self-service machine in market.
SCiQ is an intelligent instant game ecosystem modernizing the lottery retail environment. Since 2001, the Company has led digital lottery innovation with more than 700 interactive lottery games, mobile apps, player loyalty programs and other interactive products and services.
SG Future of Sportsbetting: Slot Machines 2020 Report
The OpenSports platform brings together a comprehensive suite of sports betting technologies and memorable sports betting experiences for players. OpenBet remains the core sports betting technology solution, the backbone for sportsbook operations, using SG proprietary betting engines tested in global sporting events. OpenPlatform provides world-class, fully compliant player account and wallet services. OpenTrade, powered by Don Best Sports, offers 360-degree managed trading services including pricing, odds and feeds.
IGT-GTech: Slot Machines 2020 Report
One of the most recognized of slot manufacturers is IGT or GTech. IGT slot machines evolve via many of its proven game themes to create compelling experiences. Examples are Scarab Grand, Candy Bars 2, Dragon Lights, Fu Gui Long Feng and Red Hot Tamales! Jackpots are next-generation progressives that build on the success of the original IGT themes.
The company will also introduce Ocean Magic 4D on the CrystalCurve True 4D cabinets building on the global success of Ocean Magic. Additionally, IGT will apply one of its most recognizable game themes of all time, Cleopatra, to the new TournXtreme Tournament. The high-energy, video slot tournament solution melds player-favorite Cleopatra slots with the competitive, adrenaline-pumping TournXtreme experience.
IGT presented an exciting set of new Wheel of Fortune slot games that is as diverse as the players who enjoy them. New True 4D games Wheel of Fortune More Money and Wheel of Fortune 4D WheelMobile will be joined by games such as Wheel of Fortune Cash Link Deluxe with base games Ruby Riches and Shimmering Sapphires, plus Wheel of Fortune Gold Spin Deluxe on the CrystalWheel + Stepper cabinet. IGT will also introduce the new Wheel of Fortune content for the highly successful MegaTower cabinet.
IGT is the undisputed leader in video poker content and hardware. The introduction of the PeakBarTop represents a meaningful step forward for the gaming segment. The highly anticipated gaming machine features a curved, 23-inch display and a range of other tech-advanced features such as enhanced lighting and sound, a USB charging port, a comp-drink indicator, improved serviceability and more.
Because IGT leverages the Ascent platform for video-based content development, the Company can offer a wide range of gaming experiences on the PeakBarTop spanning video poker, slots, keno and roulette.
Showcased at G2E were new versions of player-favorite IGT video poker games such as Game King, Ultimate X Poker, and Super Star Poker, as well as new games on the PeakBarTop.
Mix in other titles such as Scarab and Solar Disc, Keno games such as Wolf Run and DaVinci Diamonds plus Glorious Roulette on the new PeakBarTop.
In addition to introducing the PeakBarTop, IGT demonstrated new and player-favorite video poker and Keno titles on a variety of cabinets including the CrystalCurve, CrystalSlant Poker and Cobalt 23 cabinets.
Konami: Slot Machines 2020 Report
Konami Gaming, Inc. announced a broadening array of video slot cabinets, premium games series, proven core content, and casino systems technology arriving at G2E. These features include: Synkros Synk Vision facial recognition technology, top titles for the big-screen Opus cabinet, landmark linked progressives for the award-winning KX 43, and a never-before seen video slot cabinet, with launch series including All Aboard and Silent Hill.
The trade show marks the industry premiere of Konami?s latest video slot cabinet. With a 49-inch ?J? curve display in 4K Ultra HD, this cabinet provides a sleek, exciting canvas for high-profile linked progressive series. Following success in the Australian gaming market, a launch series titled All Aboard is making its global debut with top-quality options, including custom chairs and pod filler displays.
In addition, the company introduces the Silent Hill video game as a for-wager slot experience. Dual series launch themes leverage thrilling scenes, sounds, and characters from Konami?s recognized entertainment legacy.
Exclusive game releases for Konami?s award-winning Opus cabinet will be featured across its 65-inch display, including an island-inspired jackpot game without traditional spinning reels called Treasure Lounge. Fresh content options across the Concerto Collection will be available for global operators to experience firsthand, spanning Crescent, Stack, and upright.
Aristocrat: Slot Machines 2020 Report
Let?s take a look at the Aussie company of Aristocrat where the motto is: Innovations Reign Supreme.
Leading the way is Aristocrat?s new MarsX cabinet presenting the Buffalo Gold Revolution which integrates progressive jackpots into the brand for the first time and adds an energetic wheel bonus to the mix.
Other themes on MarsX include Fu Dai Lian Lian--a transformation of the player-favorite Gold Stacks 88 as well as new themes in the Mighty Cash family featuring Mighty Cash Ultra.
Dollar Storm is the fusion of two products, Lightning Link and Dragon Link with an added Progressive that can be won by any player, on any bet at any time.
Additionally, the company?s portfolio includes these slot titles: Mad Max: Fury Road and Game of Thrones: Winter is Here, each of which take full advantage of cinematic design offering thrilling game play.
There will be exciting new licenses including Star Trek: The Next Generation from CBS Consumer Products that will further expand the EDGE X cabinet?s enviable library of leading content.
Gold Stacks 88 has been ranked at the top of independent researcher?s lists of top-performing games. New games created specifically for the larger-than-life play of the Helix Tower cabinet and Relm cabinet round out the Gold Stacks 88 line. All Gold Stacks games can be linked together for different types of players. Also appearing on the Helix Tower is Dragon Tower, an exciting new 5-level progressive.
Gaming Arts: Slot Machines 2020 Report
The final part of this annual report belongs to Gaming Arts that presented a Play NOW! Theme for G2E Trade show.
Gaming Arts boasts that the company will introduce unique themes to players across the country along with the arrival of new product families and themes plus the debut of its new GA Wheels form factor.
Gaming Arts reached several key milestones including the sale of its first Pop'N Pays series slot, secured over 100 gaming licenses worldwide, and demonstrated strong game performance results of new game titles .
The company displayed its inaugural collection of Class III slot families including the Pop'N Pays, Da Fa Ba, Dice Seeker, and Casino Wizard games.
Also, eight new slot families including Wu, Inferno Wheel, Hamster Libre, Fortune Finders, Shi Fu Jinbi, Kai Yun Jin Bi, Replacing Royals plus Golden Pays and will introduce more than 15 new slot themes.
Inferno Wheel, Hamster Libre, and Kai Yun Jin Bi will debut on the Company's exclusive Phocus Wheel topper, the world's first patent pending persistent wheel featuring a virtual LCD wheel design that emulates a physical wheel with stunning LED light rings.
In addition, the Rocket Rollup mystery progressive is featured that presents a linkable two-level or three-level mystery progressive with an extremely high-hit frequency.
SuperBingo, Ultimate Bingo Slots & Super 10 Way Bingo: Slot Machines 2020 Report
SuperBingo, UltimateBingo, and Super 10 Way Bingo slots suites will showcase their extraordinary game-play experience that deliver entertaining game mechanics and player-favorite features, including: frequent bonuses and wins, multipliers, free games with retriggers, floor-wide, near-area, and wide-area progressives.
Bingo Millions, known as the world's first and only $1 million linked bingo progressive and $1 million bingo game. Gaming Arts has awarded more than $15,000,000.00 in Bingo jackpots in the last five years.
Gaming Arts presents its SuperPROMO mobile promotional game system. This unique platform creates floor-wide excitement via a mobile tablet hand delivered to players. Also, EZ KENO Kiosk and Optima System Game Management offers powerful mobile, self-service, and reporting that includes a 43" LED digital display. It accepts TITO tickets and a cutting-edge body wrap designed to attract players.
The Company presents its full suite of products including the Optima Keno Game Management System, the Optima System, Keno Millions, and Super Win Bingo.
While this overview offers a quick start, you will find there is much more to explore at the slots machines 2020 playground.
Good Luck!