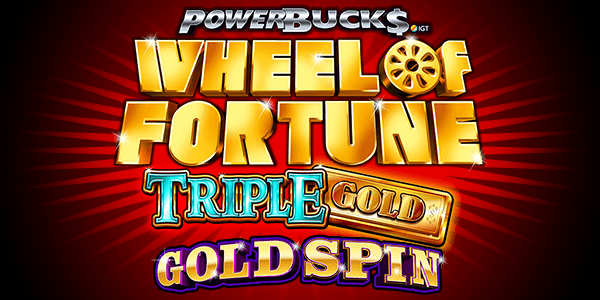 This is the annual report of slot machines 2019 as previewed at the recent G2E trade show, Las Vegas. New slots games, upgrades, internet options plus an intro to 2 additional gaming manufacturers are revealed to entertain slot players. Recognized slot/game creators for this report include Aristocrat, Scientific Games, Bally, WMS Gaming, IGT & Konami Gaming.
IGT/GTech: Slot Machines 2019
We begin with the mammoth game maker, IGT/GTech who boasted the largest booth at G2E. IGT featured two new Wheel of Fortune 4D games - Wheel of Fortune 4D Featuring Vanna White and Wheel of Fortune 4D More Money. Also, Wheel of Fortune Triple Red Hot 7s.
Slot Machines 2019 reports that the new mega-sized game of Megabucks Double Diamond Deluxe on the S3000 XL cabinet advances IGT's momentum in the large-format space, while American Gods 4D will entertain players by capturing the spirit of the namesake TV fantasy drama.
GT's CrystalCurve cabinet presents new base games for its expansive library of multi-level progressive games such as the Fort Knox, Fortune Gong, Golden Goddess and Jurassic Park Trilogy games.
Additionally, IGT showcased titles such as the Fortune Coin and Coin O Mania games. There is a range of top-performing games such as Scarab and Solar Disc, and new innovative games such as Wild Pirates and Lucky Buddah.
While a new video TournXtreme product, IncrediBell! is being rolled out, there are other new games to include Alfred Hitchcock - Master of Suspense, and Temple of Treasure Triple Gold games.
Featured titles included Red White and Blue Drumroll game that incorporate classic traits like prominently displayed pay tables, iconic sounds, and retro-style jackpot meters.
There is an increased focus on the high-denomination space with titles such as Pinball Gold and Double Double Gold on the S3000 cabinet.
New Video Poker and Keno Content
As the market leader in video poker, IGT continues to set the industry standard. For example, there will be a new version of the most popular video poker title of all time: Game King. The content bundle incorporates roulette and some of IGT's most successful slot titles.
Hot Roll Poker! The game's base is Joker Poker and a brand-new Fever Mode bonus. This game set also features following 12 games:
Double Double Bonus Poker

Secrets of the Forest Poker
Slot Machines 2019 reports that there are 3 new Price is Right games plus Adam Levine slots added to the expansive Premium Portfolio at IGT.
The Price is Right Showcase Showdown Slots. The towering, three-reel, five-line game stands 11-feet tall and places lucky players in the middle of their own bonus events, where they can spin the Big Wheel.
The Price is Right Video Slots. The three-level progressive features vignettes with game show host Drew Carey. The highly interactive game features many of the TV game show's most popular games such as Punch A Bunch, Cliff Hangers, and Rat Race.
The Price is Right Plinko Slots. This three-reel, five-line game gives players the chance to play the widely loved Plinko game.
Music fans will delight in the sights and sounds of IGT's Adam Levine Video Slots. The game leverages a vast collection of popular Adam Levine concert imagery and entertains players with its six jackpot levels.
Other 2019 product highlights
Dynasty Electronic Table Games (ETG) and content including preview of IGT's automated Triple Zero Auto Roulette game. Also, there is the RNG baccarat game with options for baccarat and blackjack side bets.
Additionally, Chill Gaming's dynamic game concept Bloomtopia, and the chance-skill hybrid game Fortunes of the Brave that reward players with monetary and non-monetary rewards. The Company's marquee Video Lottery Terminals results in titles like the Shield Maiden and The Wild Life Extreme games.
Lastly, there is the PlayShot sports betting solution that enables anywhere, anytime gaming. PlayShot sports betting technology is a fully capable "plug and play" technology that offers land-based retail, on-premise and state-wide digital delivery options.
Scientific Games: Slot Machines 2019
Scientific Games merges 2 of the most exciting and innovative game makers - Bally and Wms. Gaming. Beginning with slot games, there is Bond. James Bond - the series. New titles evoke the adrenaline and intrigue synonymous with the most famous British Secret Service agent ever, such as Die Another Day, Goldeneye and Live And Let Die.
Twin Fire Frenzy
6 Reels, 25 Lines, 25 Credits Bonus Bet, 600 Credits Max Bet
Twin Fire boasts both the player-favorite Quick Hit Feature and mini-reel games-in-game Hot Shot Feature and now includes a Frenzy Bonus. The thrilling Frenzy Bonus adds a new level of excitement awarding multipliers, additional Hot Shot games-in-game and Quick Hit symbols that can add up for Progressive Jackpots. There is also a Wheel feature where players spin for credit prizes, free Games, and jackpots.
Monopoly Top Hat Roulette
Additionally, there is the new Monopoly Top Hat Roulette. This twist on this classic theme features a circular construction which creates a thrilling social experience for players. This cabinet showcases a curved, 49-inch, 4k resolution and ultra-high-definition display.
Games available on this cabinet include enhanced versions of player favorites such as Dragon Spin-Age of Fire and Cash Wizard World, in addition to Jin Ji Bao Xi- Endless Treasure and Jin Ji Bao Xi - Rising Fortunes.
New Willy Wonka games based on movies
Munchkinland featuring The Wizard of Oz and Willy Wonka - Loompaland starring the Oompa Loompas of Charlie and the Chocolate Factory. The Company introduces new table games and utilities, such as I Luv Suits Poker, Vegas Blackjack Fever, and a new version of Hic Holdem Poker.
New Deal or No Deal
Multi-state Lottery Linked Game as TV Game Show returns.
SG presents the world's top sports betting solutions with OpenBet. The industry's leading sports betting technology offers a one-stop process that includes sports betting, retail terminals, portal, mobile betting, sportsbook operations, in-venue, and managed trading services. Scientific Games offers more than 2,000 online game titles.
Konami
Konami Gaming, Inc. announced a vibrant mix of Ultra HD game cabinets, popular progressive jackpot features and bonus play mechanics.
With momentum from popular game series such as Star Watch and Celestial Sun/Moon Riches, Konami is leveraging proven game play features and bonus mechanics to deliver new entertainment for today's players.
Konami features an entirely new 4K video cabinet called KX 43, with an impressive 43-inch edge-lit single screen, relaxed slant top, lighted dash interface, and exclusive 4K game content. KX 43 arrived with nearly a dozen exclusive game themes ranging from symbol-driven linked progressives to original jackpot bonuses.
Slot Machines 2019 reports that Konami's 65-inch 4K Concerto Opus will debut a unique linked progressive called Treasure Ball, which rewards players with mystery jackpot prize balls in greater numbers and sizes as they increase their bet.
Agent Magnifying Jackpots and Inspector: Sign of the Jackpots continue the success of Konami's Strike Zone mechanic on the curved Concerto Crescent and Stack cabinets with scaling multi-denom standalone jackpots.
Other progressives include
Solstice Celebration Triple Sparkle
Matsuri Kojiki Moon
Sparkling Roses Color Bloom
the Golden Blocks series
Jackpot Streams Evolution
Aristocrat
Experiences from the Aussie game creator include: Mad Max: Fury Road Slot Game, Billions Slot Game and Dragon Link Lounge Dragon Parade: Fire breathing fun. Let's explore these three new titles ready for the casino floor.
Mad Max: Fury Road
Aristocrat, in partnership with Warner Bros. Consumer Products, debuts the new Mad Max: Fury Road Slot Game The game appears on Aristocrat's stunning new Edge X cabinet, with dual 43" landscape, curved LCD's displaying panoramic views and stereo symphonic surround sound, making it the perfect setting for the high-octane Mad Max theme.
Haunted by his turbulent past, Mad Max believes the best way to survive is to wander alone. Nevertheless, he becomes swept up with a group fleeing across the Wasteland in a War Rig driven by an elite Imperator, Furiosa. They are escaping a Citadel tyrannized by the Immortan Joe, from whom something irreplaceable has been taken. Enraged, the Warlord marshals all his gangs and pursues the rebels ruthlessly in the high-octane Road War that follows.
Aristocrat's portfolio according to Slot Machines 2019 includes several other licensed titles such as Westworld slot game as well as The Big Bang Theory, Batman Classic TV Series, Dumb & Dumber and A Christmas Story.
Billions
The high stakes world of the hit TV show Billions arrives at casinos. Billions stars Paul Giamatti as U.S. Attorney Chuck Rhoades and Damian Lewis as hedge fund king Bobby "Axe" Axelrod. The Billions Slot Game is based on Season 1 and 2, which includes fans' favorite characters such as Chuck Rhoades, Bobby Axelrod, Wendy Rhoades, Lara Axelrod, and Taylor Mason. Adding to the fun, the game will include the popular Mighty Cash feature, as well as a $500,000 multi-site progressive start-up jackpot.
Dragon Link Peacock Princess & Spring Festival
The two newest Dragon Link bank mates, Dragon Link Peacock Princess and Spring Festival bring brilliant and colorful Asian-themed experiences with big symbols to the Dragon Link family, a player favorite in the Australian gaming market. You can enter the Dragon with 1c, 2c, 5c, 10c, $1 and $2 denominations, making this a truly entertaining experience.
Buffalo Diamond
Buffalo 10th Anniversary Celebration unveils the all-new Buffalo Diamond with the cutting-edge flame cabinet for Buffalo Diamond - a 55" double-curved HD monitor.
Gaming Arts
Gaming Arts is one of 2 newer entries in the market introducing a multitude of unique and innovative video reel slot games, progressives, high-denomination games and international multi-game products.
Product lines include: Pop N' Pays Series, Super Games, Optima Game Management Systems, Bingo Millions, SuperPROMO, Keno Millions, Super Bingo Series, Ultimate Bingo Series, as well as its video slot machines.
The unique video reel slots library consists of four series, including: Pop N' Pays, Da Fa Ba, Dice Seeker, and Casino Wizard.
Pop N' Pays, Da Fa Ba & Dice Seeker
The Pop N' Pays, Da Fa Ba, and Dice Seeker series will offer a new, optional mystery progressive feature called Rocket Rollup, with several themes available in high-denomination format.
Casino Wizard
The multi-game Casino Wizard series, available with Roulette, Baccarat, Blackjack and Craps games, replicate the play of live games and include exclusive and exciting side bet options to increase handle and hold. Slot Machines 2019 reports other Gaming Arts products next.
SuperBingo and Ultimate Bingo Slots
First-of-its-kind SuperBingo and Ultimate Bingo Slots deliver player-favorite features, including frequently hitting bonuses and wins, multipliers, free games with retriggers, four-level progressives, multi-game options, bonus balls, and wheel bonuses.
SuperPROMO
SuperPROMO is the world's first casino-wide interactive promotional game system that includes four customizable mobile games.
Bingo Millions
Bingo Millions is the world's first and only $1 million linked bingo progressive and $1 million bingo games.
EZ Kiosk
EZ Kiosk, the world's only freestanding, self-service kiosk available enables players to purchase and redeem keno tickets for up to 16 different games. This unique experience offers quick-pick betting, side-bet games, customizable bet amounts, and extensive game options.
Competitive Interactive
Competition Interactive offers skill based games and slot machines with innovative bonus games, which are far different than any others in the casino industry.
Running Rich Racing
Its premier game, Running Rich Racing is a multi-player kart-racing experience where players battle for cash on different race tracks based on modern spins of classic fairytales.
The game's innovative driving cabinet design features an attachable rear kiosk that houses the game Running Rich REELS where players spin a 5x3 reel matching power up symbols, characters and cars with exciting bonus games including a never before seen drag race.
Star Striker
The company's products include the Star Striker series of games. Star Striker NEON is a fast paced, single-player, space shoot'em-up set deep in space. Players wager on various levels in 4 different stages, battling enemy alien ships and clearing a level for a Payday bonus. Through the use of wagered power ups, like multi-shot and shield, the player fights through to The Boss for the ultimate Payday.
Star Striker Racing
Set in the same universe, Star Striker Racing is the future of casino/arcade multi-player racing games. Players must try to complete 1 lap around Titan in the year 2040, racing against all vehicles and other casino players as they hit boost pads, avoid obstacles and collect Boost Orbs for added speed and added payback multipliers.
Competition Interactive games are social, competitive, skill-based, fun, and the remarkable game design and art is of top quality and a welcome entry to Slot Machines 2019.
Industry Trends
Lastly, according to a recent report about Industry trends, growth and opportunity forecasting for 2018-2023, the global gaming market reached a value of US$ 98.5 billion in 2017.
The market has been segmented into consoles, mobiles and tablets, and computers. Mobiles and tablets account for the largest share followed by consoles and computers. The offline market segment accounts for a larger share.
Based on genre, the market has been segmented into adventure/role playing games, puzzles, social games, strategy, simulation and others.
Adult games currently dominate the global gaming market.
Region-wise, Asia Pacific accounts for the largest market share. Other major regions are North America, Europe, Middle East and Africa and Latin America.
Now it's time to explore the 2019 Slots Playground at your next casino stop online or off. Play On!